Top-down motoring is an automotive enthusiast's ultimate fantasy, and the Mahindra Thar lets you live that dream with no boundaries. With its inherent off-road capability effortlessly letting you get up close with poster worthy moments, it sure paints a pretty picture against the sand and surf of Goa. Read on to find out what makes our Car Of The Year 2021 the ultimate in lifestyle travel.
Show Stopper
From an aspirational icon to a popular sensation, the new Mahindra Thar has revolutionised the lifestyle vehicle segment in India, deservingly winning Autocar India's coveted Car Of The Year 2021 award.
Team Mahindra wins the coveted Car of the Year 2021 award for the new Thar.
The stage was set for an evening of celebration, with all eyes set on the glimmering trophy that took centre stage. Made even more special by a year that was wrought with unprecedented challenges, countered resiliently by the Indian automotive industry's charge to adapt, improvise and overcome. The fight for glory was perhaps tougher than it had ever been but, of course, there could only be one winner at the end of it all. One car, that would represent a million dreams. One car, that would be a cut above the rest. Winning India's most valued automotive award is no easy feat, but the Mahindra Thar, a car that climbs mountains as effortlessly as it looks striking parked against an urban hangout, made light work of this challenge, too. It's fun, it's capable and it's 'Made in India, with pride'. No wonder, then, that our Car of the Year is a Thar!
Dr. Pawan Goenka, MD, Mahindra & Mahindra, addresses the audience at the ceremony.
The Jurors' Take
Hormazd Sorabjee
Editor, Autocar India
What is the Autocar Car of the Year? It's a car that breaks the mould, one that revolutionises an existing segment and creates an entirely new one too. That's exactly what the Thar does. It has more than pleased existing customers and equally, has found new ones who never dreamt of buying a hardcore 4×4 before. The Thar has single-handedly democratised the lifestyle segment which until now was the purview of a handful of expensive, niche cars.
Narain Karthikeyan
Former F1 Racer
The Thar's performance was something I simply did not expect from a 4×4 and the smooth and silky punch of the 2.0-litre petrol engine really surprised me. I like power in all my cars and the Thar didn't disappoint. The diesel too is incredibly smooth and the way the whole package comes together makes the Thar a compelling choice. In fact, after driving it for the jury round, I booked a Thar myself right away!
Shapur Kotwal
Deputy Editor
The Mahindra Thar is the car that has moved the goalpost furthest. It clearly is more accomplished off-road. It comes with electronic off-road driver aids, it has greater torque and traction, and should you wish to keep the weather out, it gets a hardtop now.
But that's only the half of it. The new Thar is also an SUV you can sort of use everyday. Rear seat comfort, luggage space and ride quality are a bit compromised and it has only two doors. But you get a smooth automatic, the steering is easy to twirl, you can park easily, you get Apple CarPlay, and the Thar even has an excellent safety rating. Want something more than just another SUV? The super cool Thar it is.
Renuka Kirpalani,
Executive Editor – Video
To win top honour, it has to be a car that makes me sit up and take notice instantly. The Thar did exactly that with its sheer progression from what it was to what it is. The strong engines, the way its decimates bad roads, easily conquers the toughest of terrain and the more modern, practical interior are all factors. However, the sheer invincibility from behind the wheel and the way it just brings a smile to ones face when you drive it, is what brought it home for me. It made the lifestyle vehicle segment have more mass appeal. A weekend vehicle that's good enough for the daily grind.
Kamlesh Patel
Former Indian Racing/Rally Champion
You don't expect a body-on-frame 4×4 to be so versatile but it is. It's much more user friendly than I thought and the inclusion of automatic transmission has widened this SUV's appeal dramatically. The Thar is no longer the crude 4×4 it once was and in fact, the hardy interior fixtures and well-finished dashboard highlight the new level of quality that I simply did not expect. It drives really well too.
What We Said In Our Road Test
The new Thar is a very desirable SUV. If the tough-as-nails construction and its mountain goat-like ability to tackle hostile terrains don't sweep you off your feet, its butch persona and bucket loads of street cred certainly will. With smooth and strong engines, an added dose of refinement, the convenience of automatic transmissions and light controls, the new Thar is more user-friendly.
Though it's not without flaws. Getting in and out, especially into the rear seats, isn't very easy, the boot is very small, and it misses several features like LED headlights, rear-view camera, rear wiper/washer, and more, many of which have become a norm at this price point. What could also dissuade buyers is its bumpy on-road ride quality, which isn't as smooth or cushy as SUVs with a 'car-like' monocoque construction. But if you can work around its shortcomings, this is an SUV that's oozing character and can take you places no other car at this price point can. What's truly remarkable is that the Thar's legendary off-road ability no longer comes at the expense of practicality, convenience and comfort.
Quite frankly, there's simply nothing like it for the money.
KEY SPECS
Engine: 2184cc, turbo-diesel/1997cc, turbo-petrol
Power: 130hp/150hp
Torque: 300Nm/320Nm
Ground Clearance: 226mm
0-100kph: 13.3s (diesel MT), 13.5s (diesel AT), 10.2s (petrol AT)
80-0kph: 26.38m, 2.31s
The Thar Tribe
In less than a year, thousands have turned their Thar dreams into reality. Here are a few who truly wear their Thar ownership on their sleeve.
Thara George
'The Priestess with the Beastest' is the title given to me and my Thar by my friends.
Photograph: Akhil Appu
Arjun Rajan Pottekkat
The Thar has been a dream from the time I can remember. Probably because I grew up seeing dad with various forms of off-roaders like the Mahindra Classic, the MM540 and all. Every time I saw a Thar on the road I'd stand and stare with a sparkle in my eyes followed by a long "sighhhh….." and I would just walk away because I wasn't in a position to get one for myself. From that point on, to this day I'm grateful that this dream is now a reality and I can't explain the excitement on owning the all-new Mahindra Thar. I waited outside the showroom on October 2 until the launch event was over, waited for the price reveal and went right into the showroom and booked this dream. I'm sure dad would be equally excited if he was here.
Diya John
I'm absolutely loving my new Thar. It definitely fits perfectly with my personal style. It glides through roads, dodging and taking on potholes, speed bumps and uphills. An incredible adrenaline rush for the one behind the steering, and a joyride for the ones buckled in at the back, with ample boot space to take the house along. My journeys to above the clouds now have a new trusty steed by my side, my incredible and ever reliable Thar!
Rajan Nigam
Some said wait and some said great, but I didn't want to be late. I went by my instincts and booked her finally and got her on my birthday. She was the first to be spoken about by me on the vlogs and in my posts, of course, and the first to be driven around by me, turning heads. I say she is the one good thing I came across during the time of a world crisis. Realised life had something missing after holding the  steering of my all-new Thar. Baar Baar Dekho, Yeh Thar Thar dekho, Ke dekhne ki cheez hai Humari Dilruba, Thar lee ho… The romance continues, and guess what's next, I'm building an ideal stable for her – a personal off-road track.
Talk of the town
The 'made in India, with pride' off-roader has taken the who's who of India by storm as well. Take a look!
Chithra Paul
Mrs Kerala 2017
The appeal of the Thar is that it isn't a run-of-themill or cookie cutter SUV. This Thar has a distinctive look along with power and comfort to roam anywhere.
Rohit Bose Roy
Bollywood Actor
The all-new Thar for me is the perfect blend of style, comfort, power and above all, attitude! It takes the rough with the smooth with equal elegance and grit. It makes me feel like a tiger when on the road!
Lakshyaraj Singh Mewar
Prince of Udaipur
I want to congratulate team Mahindra for giving India an exceptional off-roader. It fills me with pride that the Thar is a made-in-India vehicle and I am certain its capabilities
Washington Sundar
Cricketer
Shardul Thakur
Cricketer
T. Natarajan
Cricketer
Vijay Babu
Actor
Top Down Approach
With the wind in your hair and a sunny sky for a ceiling, the Thar let's you enjoy a driving holiday like nothing else can.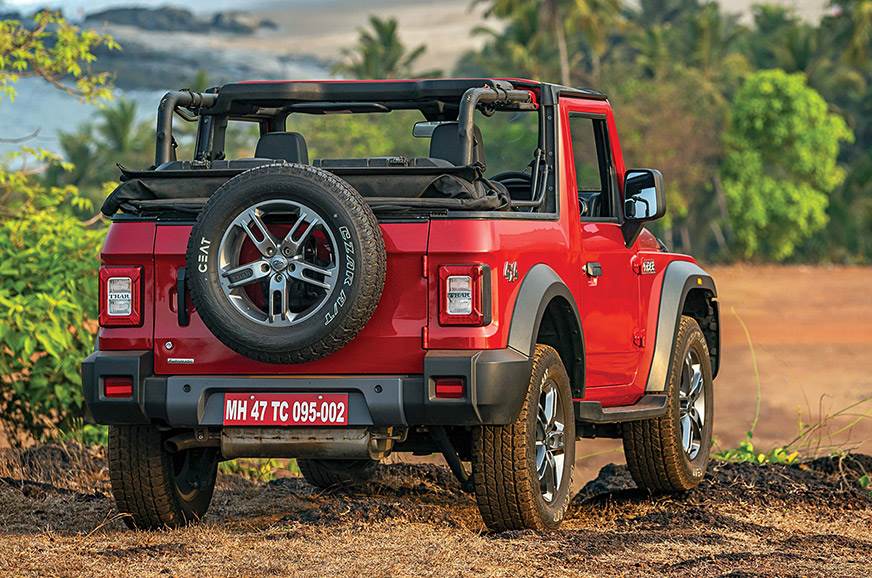 Who needs a drone when you have Mahindra Thar to give you stunning aerial views?
Arriving in style is something of an aspiration for many of us. It's only naturally implied that a car of some sort is to be trusted with making this aspiration come true, but what about the part before you arrive? With the new Mahindra Thar, that question gets answered without trying hard at all. You've arrived before you've even begun a journey, for owning a Thar is a statement unlike any other you can make. The Thar is a hat-tip to an active lifestyle you've consciously nurtured, an ode to your disregard for convention and conformity.
With the soft-top rolled back and tucked-in neatly – as it should always be – the Thar's transformation from an all-conquering off-roader to a planetarium on 18-inch wheels is simply spectacular. With the top down, the Thar instantly unites you with the elements, letting you absorb the vibe of your surroundings, be it a glimmering beach town or a sleepy mountainside hamlet, while also giving you a cool new hairdo. Everyone, from the surfer dude about to hit the waves, to the tattoo artist permanently inking another determined forearm, gapes as you drive by. And while you may cause a few to spill their drinks or even trip over  themselves, you certainly will make little kids on board make short gasps, all of whom will have, in an instant, found their first life goal. A lasting one, too.
The best way to get a sun tan, don't you agree?
You, of course, have seen it all before. Your choices have always had that sort of effect on the world around you. Nobody scales terrifying peaks 'just for fun' and neither does anyone hop into a sporty speedboat, just for a little bit of playtime – unlike you, of course. The roar of a powerful outboard motor slicing through the choppy waters of the sea drowns out the white noise of the urban routine, but with a Thar parked dockside, standing tall among a crowd of spectators, you'll only be at sea for a short burst. You'd much rather be in its commanding perch than anywhere else, surely.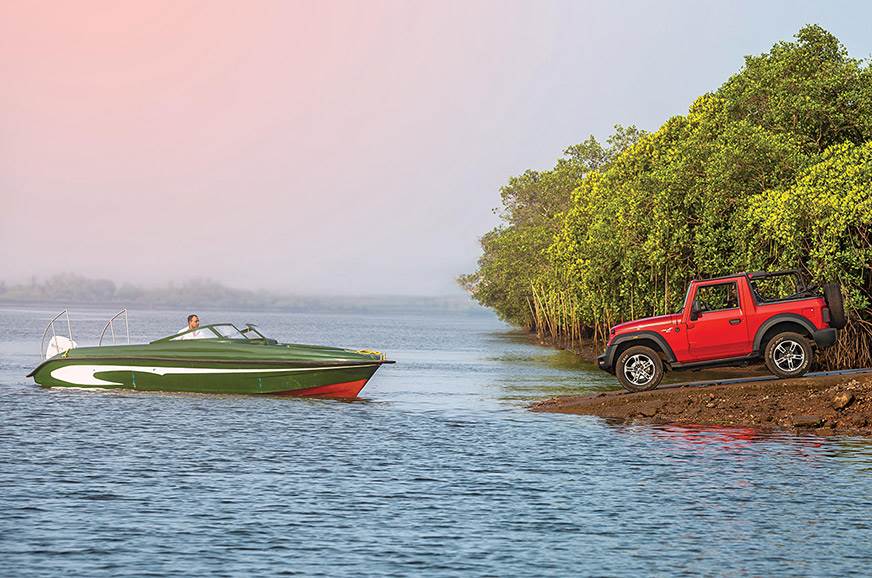 Fast, eternally cool and makes a splash – guess which one we're talking about!
With its inherent capability to accommodate your ever-active routine, there's never a dull moment behind the wheel of a Thar. Its punchy, refined, 150PS petrol engine makes the most towering of your conquests seem like a breeze, whether it involves a steep hike up an oceanfront cliff or surmounting an inhospitable mountain pass. For all its go-anywhere character, it still feels at home cruising down a bedazzling boulevard, as you arrive for a night-out of revelry with your friends.
Car-like demeanour makes the Thar a breeze through narrow alleys.
There's something to be said about the sophistication of the Thar, be it the suave all-black expanse of its interior or even in just details such as its purposefully encased infotainment touchscreen, the charmingly analogue dials or its overhead panel which cleverly houses a set of booming speakers. It's urban chic and yet ready to take on the wild, somewhat making it like the 007 equivalent of automobiles.
All-black interior is rugged yet chic!
Against Goa's vibrant backdrop, the Thar paints an unequivocally cool picture. It brings to life the vivid Latin quarter, as you steer its imposing nose through its characteristically narrow lanes, making a flock of tourists point their cameras in your direction. You enjoy the attention, of course, even indulging said tourists while you step out, briefly, to capture a memory of your own. Driving through a breezy tree-lined road, the Thar effortlessly absorbs the energy of susegad Goa, as you wander aimlessly, watching one panoramic vista after another from behind its flat and wide windscreen. It's motoring in its purest sense. You can be anywhere you like, and get there real quick, too, but with every moment behind its wheel being a sensory treat, you just want to drive the Thar longer. Be it the lone explorer or a quartet of dreamy friends seeking an eternally memorable trip, the new Thar has room for everyone. It'll go everywhere – and anywhere – you want it to, but above all else, it'll take you there in style. You'll probably never get over how brilliantly it marries its old-school goodness with a new-age panache, but who has the time to ponder over this, when there's always somewhere to explore? Go on, then, there's a Thar out there, waiting to make your dreams come true. And to give you that cool new hairdo.
The Thar lights up breezy midnight drives!
Talking to Veejay Ram Nakra
Mahindra's Automotive Sector CEO talks us through the year of the Thar – its appeal, success and the brand's learnings.
What does winning the Autocar Car of the Year mean to you?
The last time that we won Autocar's Car of the Year was in 2003 for the Scorpio. So, coming back after 18 years is absolutely a moment of pride for all of us and I think, as you rightly said, it's truly deserving. What gives us the greatest pride is we won it for an 'Atmanirbhar Bharat' product, a homegrown, iconic brand.
On the subject of 'Atmanirbhar', as an Indian brand, how important is this, especially given that this award is not a category but the best of the best from the year?
Our greatest pride is that it's a testimony to the Indian ecosystem, all said and done, because everything has largely been done in the country – be it our suppliers, the entire MRV engineering centre, our Kandivalibased design centre or the whole ecosystem of our suppliers. The second reason why it's important for us is because it is a homage and testimony to 75 years of Mahindra's heritage. Number three, we are an SUV company, and, what better example of a
brand than the Thar, which embodies what is really an SUV. That's the reason why we've given it that tagline – Explore the Impossible – because you can take it anywhere. We've given the Thar a hard top, soft top and convertible top, it has all the powertrains that you need and it's brought in a whole new set of buyers. So, if you combine all of this, that's what gives us the greatest pride – that the award was won by an Indian brand with an Indian ecosystem, in its 75th year, embodying its SUV DNA and for a much larger base of the Indian consumer of today.
Did you expect the kind of response you've been getting for the Thar? Who is your buying audience?
I think the Thar has delighted us in terms of the response – we crossed 50,000 bookings by  March itself! Coming to the audience profile, besides the enthusiasts who buy the Thar, 45 percent of the buyers are millennials. Over 10 percent of the buyers are women, 40 percent of the demand is coming from metro cities and 45 percent of our bookings list is for the automatic variant. This shows that it's not just classical enthusiasts but also 'lifestylers' who are coming in to buy the Thar. We are seeing a lot of young people who feel 'this is my age and time to buy a car like this and really enjoy,' because it's refined like a car, it's got an unmissable presence, it's sophisticated in terms of design, driveability, performance and features.
When the Thar was launched, people just wanted something to break free in a way after the lockdown. Do you think the pandemic, in an odd way, helped or do you think this response was inevitable?
I think it would have played out no differently given what the Thar brand has to offer and what it is. We all know that the line between an SUV and a car is becoming blurred; there are many people who want to buy an SUV. But frankly, many of the buyers know that they are buying a wannabe SUV.  Millennials are at the right stage because they don't necessarily need an MPV or something for a larger family. It allows them to say 'here is my time, here is my life, let me enjoy it.' Even before the pandemic, we've seen road trips becoming such a big thing in India in the last 2-3 years. So, when you have a product that allows people to fulfil that desire of theirs, pandemic or not, the brand would have played out just the way it did.
Do you think there's a sort of revolution in the lifestyle segment which the Thar in a way has triggered?
Absolutely, I think the whole society is moving towards experiential lives. I think all of us are so caught up in the routines of life, everybody craves that 'me time'. The reality is, as more and more of the economy is growing and developing, it's very difficult to define holidays and work days. So, people want short breaks, but more frequent breaks to re-energise themselves. People want to move out into nature, go trekking, do things that they've never done before and the Thar is exactly what allows the fulfilment of those needs.
Do you see any common thread in what your last Autocar Car of the Year (Scorpio, 2003) achieved back then and the Thar?
I think the answer is obvious, but it's a big one for us. The fact is that when we created Scorpio in 2002, it created a new category. It was a product that had an unmissable presence and it offered a superb package which differentiated itself from the others in the market. Almost 18 years later, Thar is exactly the same – a product with unmissable presence, in a category of its   own, and hence, that's the big learning for us in terms of what has led to the success of Scorpio. So, whether you look at the Scorpio, XUV500, Thar… this is a common thread that you will see – a 'wow' presence and design, a superb package and a refined product at a great price for the consumer.